Zombie Games
From the Tomb to your TV

Come in, honored guest!
The zombie games section has been waiting for you! This is one of the more popular areas of the tombs, where we keep all zombie related games. Down here, we define a zombie game in a similar manner that we describe a vampire game.
 If it:
Contains zombies
Reanimated corpses
Things back from the dead
Anything that fits into those categories with little exception can be found down within these walls.
Games that have both zombies and vampires will be found in both areas, and that is because we wish to serve you the best we can. You are after all, an honored guest, and I am but your humble servant while you grace us in the tombs.
Oh, how I remember the days when I would spend hours playing these delightful games, so many hours enjoyed in front of the television while my mummy yelled about how I was rotting my brains.
Rotting brains is good right?
No zombie wants to eat rotting brains. That and being the game lover that I am I enjoy even the horrible games, unless of course it is a control issue, I loathe control issues...oh, I digress, my apologies.
We are ever working towards expanding our list of zombie related games for our guests, so if you wish a particular game reviewed you can contact us here, with so many to choose from, your input on what games are important to you is valuable.
To your right you can find links to our entirety of our collection that we have reviewed in the past and below you will find the last five zombie games reviewed.
I am sure that you are ready to get into the games and are tired of hearing me babble about how to get around here, please, look around, and enjoy your stay. The games are waiting; some you are going to...die...for. Oh, my jokes never get old.
I am easy to find if you need me, and as always if you wish to add your own review to the games; we welcome you to on every page with its own place for you to add your own review for future guests, everyone likes different things after all, see you very soon friend, be safe.
Newest Zombie Game Reviews: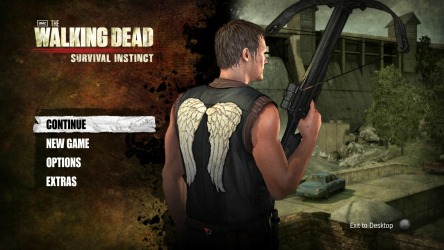 Walking Dead Survival Instinct (2013)

---
Vampires and Zombies
› Zombie Related Games
Disagree with our Review? Give your own here!
Do you disagree with our review here? If so, please feel free to submit your own review, let others know what you think and share your story.