From Dusk Till Dawn


Great, or does it 'Suck'?





The first thing I think of when someone says "From Dusk till Dawn" is a revolver looking like a penis, and Quentin Tarantino playing the single creepiest sex offender I have seen on film in a very long time.

The movie is about a pair of brothers, who have robbed a bank and wish to escape to Mexico. They have to get over the border, meet with 'a friend' to arrange safe passage in Mexico and live happily ever after.
The brothers and their hostage family are to meet up at the "Titty Twister" a strip club in the middle of nowhere, where the girls are simply to die for, literally. The "Titty Twister" is open 'from dusk till dawn' every day.

The real test of survival begins when the people of the night, prove they really are people of the night and show their fangs.

Total waste of time, or hidden gem?

From Dusk till Dawn is the movie that (Somehow) spawned two sequels, I have not seen them as of this writing (But I am sure I will, if just to review them) and I really do not see how.


Quentin Tarantino directed Dusk till dawn, that alone will make some of you want to see it, and others run for the hills. I will put my opinion of the director aside for this one and focus more on the film itself.


"Have we found the plot yet?"

"Nope."

The cinematography is done in acceptably in this movie, the scenes blend reliably, and believably, it not in the pulp fiction 'things are all over' that he has both won acclaim and notoriety for doing. Instead, it flows more like a traditional movie, with little bits of him sprinkled within.
The characters for the most part are hollow and superficial, but what do you want? It is a vampire slaughter fest with copious amounts of nudity, cursing, and people being slaughtered like cows for the undead en mass. Why waste time developing characters if you are just going to kill them, right?

There are not real surprises with this movie, its formulaic and predictable, almost painfully so. However, in some strange way I think that Tarantino meant it to be, I honestly feel like he set out from the start to make a schlocky, unabated skin and slaughter blood fest for the screen. If that was his goal, he succeeded.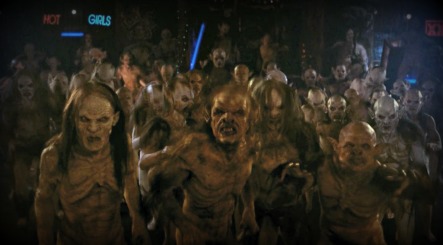 This came out about the same time as Bordello of Blood, of the tales from the crypt franchise. They have a similar plot, similar predictable nature (One or two twists in the Bordello though) and follow similar paths of directing.
The major difference is that From Dusk till Dawn did it better. Better budget, better directing, better acting, and of course, nicer models for the nudity. Because as you all know nudity is important in your vampire films </sarcasm>

If you want a good story and believable characters; watch Stake Land, but if you are looking for a guilty pleasure full of boobs, blood, blasphemy, and fangs; it would not be a horrible choice, and is in fact worth seeing once or even owning.

Though if you are a Tarantino fan, it is worth owning. You can buy From Dusk Till Dawnon DvD here. Also available on Blue-Ray or as a direct download from Amazon.
---
Vampires and Zombies

›
Vampire Movies
› From Dusk Till Dawn
---
Disagree with our Review? Give your own here!
Do you disagree with our review here? If so, please feel free to submit your own review, let others know what you think and share your story.
What Other Visitors Have Said
Click below to see contributions from other visitors to this page...

One of Tarantino's Best

This is a love it or hate it kind of film. If you love great dramatic acting and over the top horror satire, then this is the perfect film. If you only …